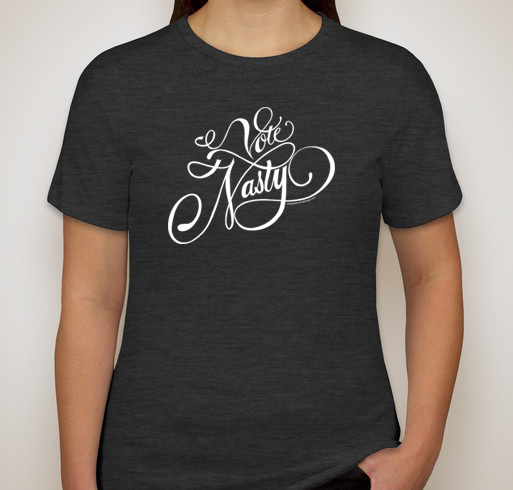 Vote Nasty T shirt
WOW! Incredible! All Vote Nasty T's have sold out and raising over $500 for charity in the process!
If you missed out, never fear, I'm not going anywhere and hope to cook up some new wears in the coming weeks.
This design was created to build on the rising voices of women around the country (and the world) who demand equal treatment and equal recognition. All proceeds will benefit a Washington, D.C. based charity that provides assistance to women who are rebuilding their lives after abusive relationships.
Wear this in solidarity for women everywhere!
Only L available as of 11/2/16!
Since all proceeds benefit charity, all sales are final.
If you are interested in mens/unisex sizing, please contact me directly—If there is enough interest, we can start a new order.
sold out
What are these T's like?
They are a super soft cotton fabric in a figure flattering longer length, what every Nasty Woman wants, natch! The color is Dark-Heather (basically a flecked dark gray) and are made up of a poly/cotton blend.
Sizes?
As of 10/26 an extremely limited number M and limited number of L and XL are available. Please email me with questions. Please refer to the sizing chart on the main page to determine what size works best for you.
Please note, image is for reference only and not an exact representation of the actual product.